2019 edition, Permanent art work
Artist designed room - Oceania hotel de France
"CHAMBRE 107" by Justin WEILER
Between inside and outside, the room is criss-crossed with grids.
Justin Weiler paints as if he were sculpting. Playing with a repertoire of "poor" architectural elements (greenhouses, blinds, iron curtains) he also draws inspiration from techniques taken from construction sites, like MAP (an adhesive mortar for drywall) or the whiting used to cover up the storefronts of empty shops, while also using noble materials such as India ink.
By using increasingly sophisticated protocols with every new project, Weiler creates a profuse body of work where meticulousness, dexterity, and a love of effort are just as important as the precision and beauty of the final piece.
This beauty partly comes from the light radiating from his paintings – shadows, chiaroscuro shading, reflections and transparency. For Chambre 107, Weiler conjugated two vocabularies in his repertoire. Like the walls of a greenhouse, the room's big, painted windows stretch to the top of the significantly tall room, transforming it into an altar, while the motif of the blinds acts as a second skin in the space.
JUSTIN WEILER WAS BORN IN 1990. HE LIVES AND WORKS IN NANTES. HE WON THE CITY'S VISUAL ARTS PRIZE IN 2016.
©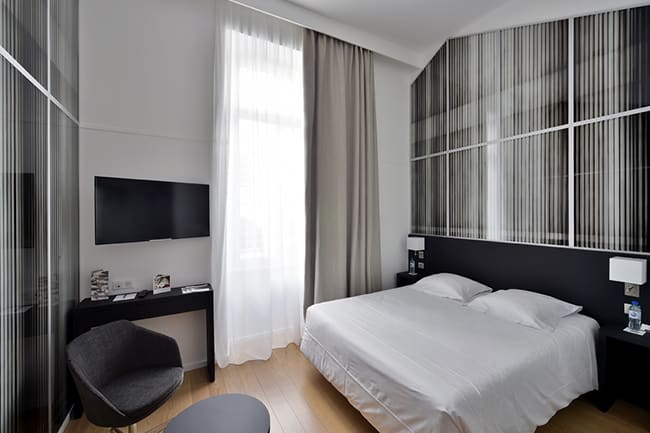 ©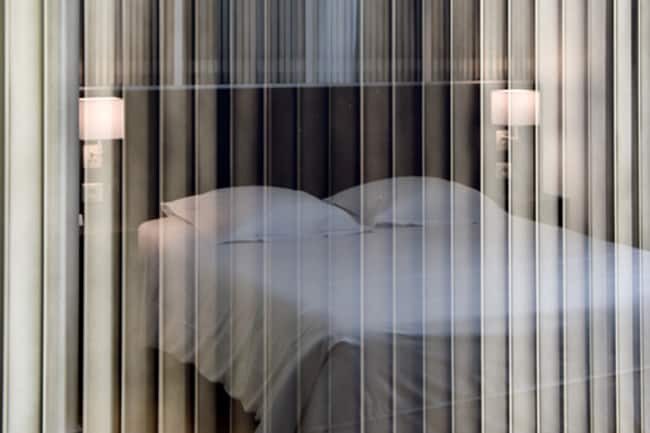 Access
24 rue Crébillon 44000 Nantes
How to get there?
Parking(s) nearby: Parking Graslin, Parking Commerce, Parking Médiathèque, Parking Gloriette 1, Parking Aristide Briand, Parking Gloriette 2, Parking Descartes
Public transport: St-Nicolas, Delorme, Copernic, Médiathèque
Self-service bicycles: Racine (n°33), Calvaire (n°11), Delorme (n°12), Bourse (n°31), Jean V (n°35), Guépin (n°9), Médiathèque (n°34), Duguay Trouin (n°29), Bretagne Sud (n°13), Aristide Briand (n°15)