©
2019 edition, Permanent art work
PÉNICHE LE D'Ô — SURPRENANTES
Karina BISCH
Le Voyage à Nantes has partnered up with the city's hotels to create a collection of permanent hotel rooms designed by artists so that even your nights are creative, artistic, and one-of-a-kind! At Le Cambronne hotel, Simon Thiou created Cellule Vitale ("Vital Cell", 2017) a modular room that guests can arrange as they please. At Okko Hotels, Julien Nédélec designed the project 208 923 heures (2017), a paradoxical world that explores sleep. And, in 2018, Elsa Tomkowiak dreamt up Miranda#F98181 for the Mercure Nantes Centre Grand Hôtel: an immersive experience in a painterly cocoon.
Karina Bisch has developed a unique artistic vocabulary using references to geometric art, but also to fashion and dance, with a particular sensitivity to modernity. She is irreverent and pragmatic, replaying the 20th century by reappropriating the presumed universality of its canons. Even though Karina Bisch considers herself a painter first and foremost, she is also very interested in the relationship between art and handicrafts, and has been developing a long-term project for years called "Painting For Living" which creates "art-à-porter": scarves, dresses, cushions, and bracelets.
Since she loves the challenge offered by any new medium, she took over this former bateau mouche from the 1930s.
Cutting up, assembling, and gluing together elementary shapes, Bisch takes elements from the vocabulary of modern art and popular culture – grids, colour, patterns and composition – but uses them in an off-kilter way by positioning them at different angles and superimposing them. Like a tableau vivant, the boat lights up the surrounding landscape with its colourful decors and its patchwork of shapes and signals.
KARINA BISCH WAS BORN IN 1974. SHE LIVES AND WORKS IN PARIS. SHE IS REPRESENTED BY GALERIE THOMAS BERNARD – CORTEX ATHLETICO (PARIS).
©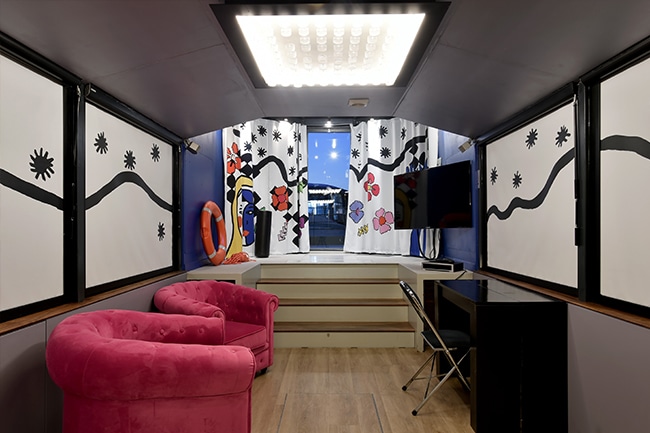 ©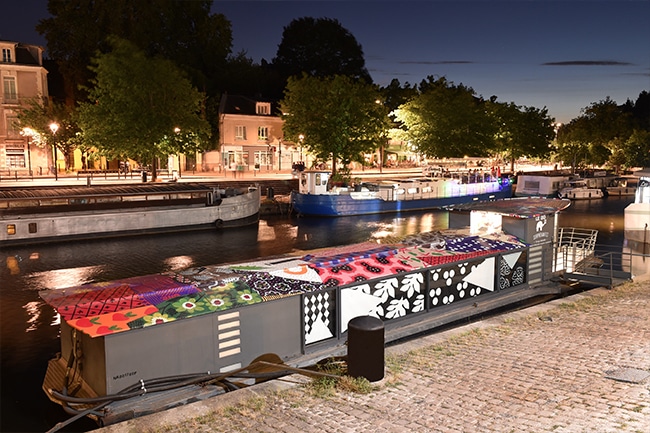 Accessibility