©
2018 edition, Permanent art work
Artist room - Mercure Nantes Centre Grand Hotel
"Miranda#F98181" by Elsa TOMKOWIAK
Immersion in a pictorial cocoon.
At the Mercure hotel, in a beautiful suite, Elsa Tomkowiak offers an immersion in a pictorial cocoon. Starting from a colorful geometric frame, it transforms space into a dense and vibrant grid, borrowed from sensuality. The warm and intense colors of Elsa Tomkowiak are redistributed by the light on the floor, the objects and the bodies of passing guests.
The Mercure Nantes Center Grand Hotel welcomes an artist's room by Elsa Tomkowiak.
The artist lives and works in symbiosis with the color, she uses to metamorphose spaces of any order: industrial wastelands, landscapes, rivers, bridges, hospitals, theater …
Miranda, feminine first name – and its code HTLM # F98181, sustained flesh color, perfectly synthesize the links of the body with the colors present at the same time in the work of the artist and the work created on the scale of this room.
©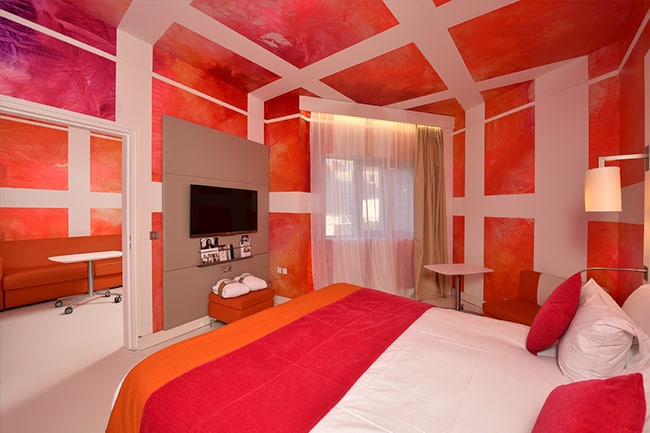 ©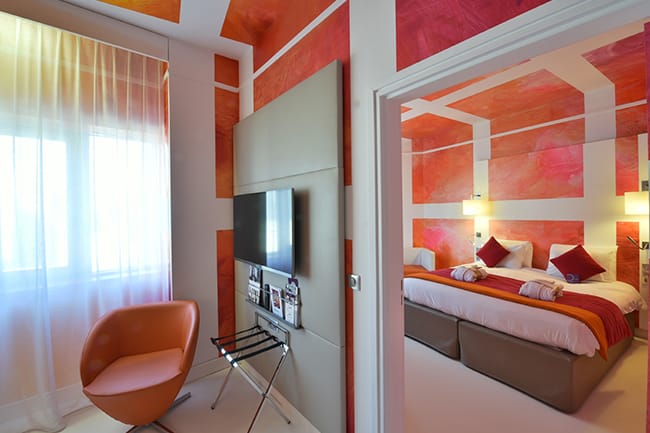 Access
Rue du Couëdic 44000 Nantes
How to get there?
Parking(s) nearby: Parking Commerce, Parking Gloriette 1, Parking Feydeau, Parking Decré-Bouffay, Parking Graslin, Parking Tour Bretagne, Parking Baco-LU 2 côté CHU, Parking Gloriette 2
Public transport: Commerce, St-Nicolas
Self-service bicycles: Barillerie (n°7), Commerce (n°30), Duguay Trouin (n°29), Guépin (n°9), Boucherie (n°8), Bourse (n°31), Calvaire (n°11), Bretagne Sud (n°13), Félix Éboué (n°37), Moulin (n°4)