Feel like visiting Nantes on two wheels? Discover the city's greatest sights from the seat of your bike. Explore Île de Nantes by riding along the banks of the Loire for 10 km (6.2 mi.) starting at Machines de l'Île, then admire Daniel Buren's Les Anneaux, the "Creation District", and the massive Titan cranes. Along the green line, enjoy 22 km (14 mi.) of bike paths to discover Nantes' historical, architectural and artistic heritage.
Following the green line of the Voyage à Nantes
18.35 km loop. Accessible to all
Practical tip: This route flirts as closely as possible with the green line. However, at certain points, it is necessary to leave the line to find it again a few pedal strokes further on.
More information on this route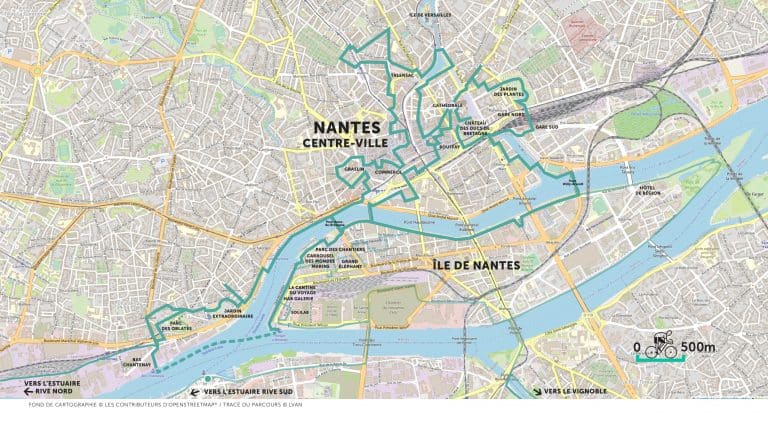 Île de Nantes
All the bridges that span the Loire lead to Île de Nantes… So, there's no reason not to take advantage of this spot, with its ever-changing landscapes and endless options for walks and bike rides. From East to West, North to South, up and down – any way you choose, it'll never be the wrong way! The river, nature, architecture, the island's industrial past and contemporary artworks create a comfortable itinerary that is ideal for getting away from the hustle and bustle of the city centre, whether alone, with family or with friends.
10.43 km (6.48 mi.) Circuit (no signage). Accessible to everyone.
Useful tip: Follow the banks of the Loire, but don't hesitate to break away and try other roads less travelled where a surprise may lay waiting right around the corner…