Heritage
Le lieu unique
Scène nationale de Nantes
Housed in the former LU biscuit factory since the 1st January 2000, the 'lieu unique' is a friendly, cultural melting pot, ripe for artistic exploration. Renovated by the architect Patrick Bouchain, LU is a place of coming together.
In addition to its own dedicated creative spaces it is also home to a number of retail activities including: a bar, a restaurant, a Turkish bath, and a nursery.
All year long, the Lieu Unique offers up an inter- national programme that brings performing arts, music, and contemporary art to the public, while also hosting a variety of different festivals. On the weekend, the bar also becomes a venue for DJs and concerts.
Built in 1909, the LU tower was an advertising totem erected to the glory of the LU biscuit brand. The celebrated biscuit box is 38 metres high and sits above an allegorical sculpture of Pheme and six signs of the Zodiac. Orphan to her twin tower, lost in 1974, the LU tower was restored to its exact original when the factory was reconverted into a national arts venue. As a symbol of Nantes' industrial heritage, the tower is once again recognised locally as a emblem, this time for le lieu unique. Opposite the tower, on the other side of the street, the offices for Le Voyage à Nantes are to be found in what was once the LU biscuit factory, which was renovated by the Nantes agency Block Architectes
LU tower
Free access with the Pass Nantes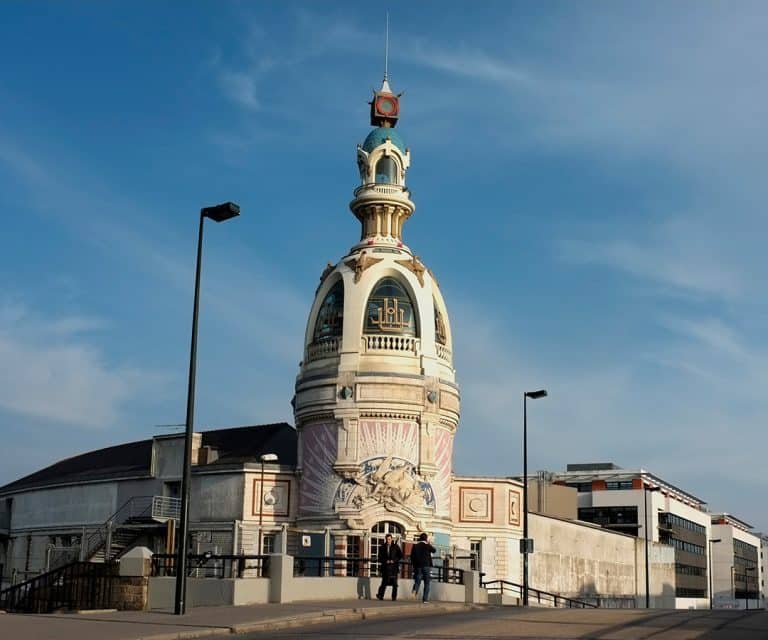 Access
2 Quai Ferdinand Favre, 44000 Nantes
How to get there?
Tramway line 1 & Busway line 4, Duchesse Anne stop. Chronobus C3, lieu unique stop.
Accessibility
Entrance via a revolving door.
Shop
Disquaire
du mercredi au samedi : 12h30 – 19h30
T. 06 47 81 81 70
Hammam Zein
tous les jours de 11h à 21h
T. 02 40 89 09 99
Restaurant
Bar
lundi : 11h – 20h
mardi et mercredi : 11h – 1h
jeudi : 11h – 2h
vendredi et samedi : 11h – 3h
dimanche : 15h – 20h
Restaurant
lundi : 12h – 14h
du mardi au samedi 12h – 14h / 19h – 23h
T. 02 51 72 05 55