Estuaire itinerary, Permanent art work
Nantes
Atelier Van Lieshout
Cafe-bar
L'Absence is a sculpture that fits into the architectural constraints of the site. The result is a moving and living mass, with multiple protuberances, as the incarnations of an instinctive gesture, without any delimitation or any function. A living space where the artist wishes discussions will happen. L'Absence is in turn a bar, a sculpture, a comment on today's architecture that will, without a doubt, fuel students' imagination.
Founded in 1995 by Joep Van Lisehout, AVL is a multidisciplinary company known for its contemporary art, design and architectural projects. Functional, simple, often imposing, their works often take the shape of furnitures, prefabricated houses, sculptures or renovation of architectural monuments. Based in the port of Rotterdam, a team of 20 people is in charge of the production of the pieces (from conceptualization to the construction). Giving priority to an independent and autonomous lifestyle for each and everyone, they often look into the conflict between individuality and collective, sexuality, power and utopia.
©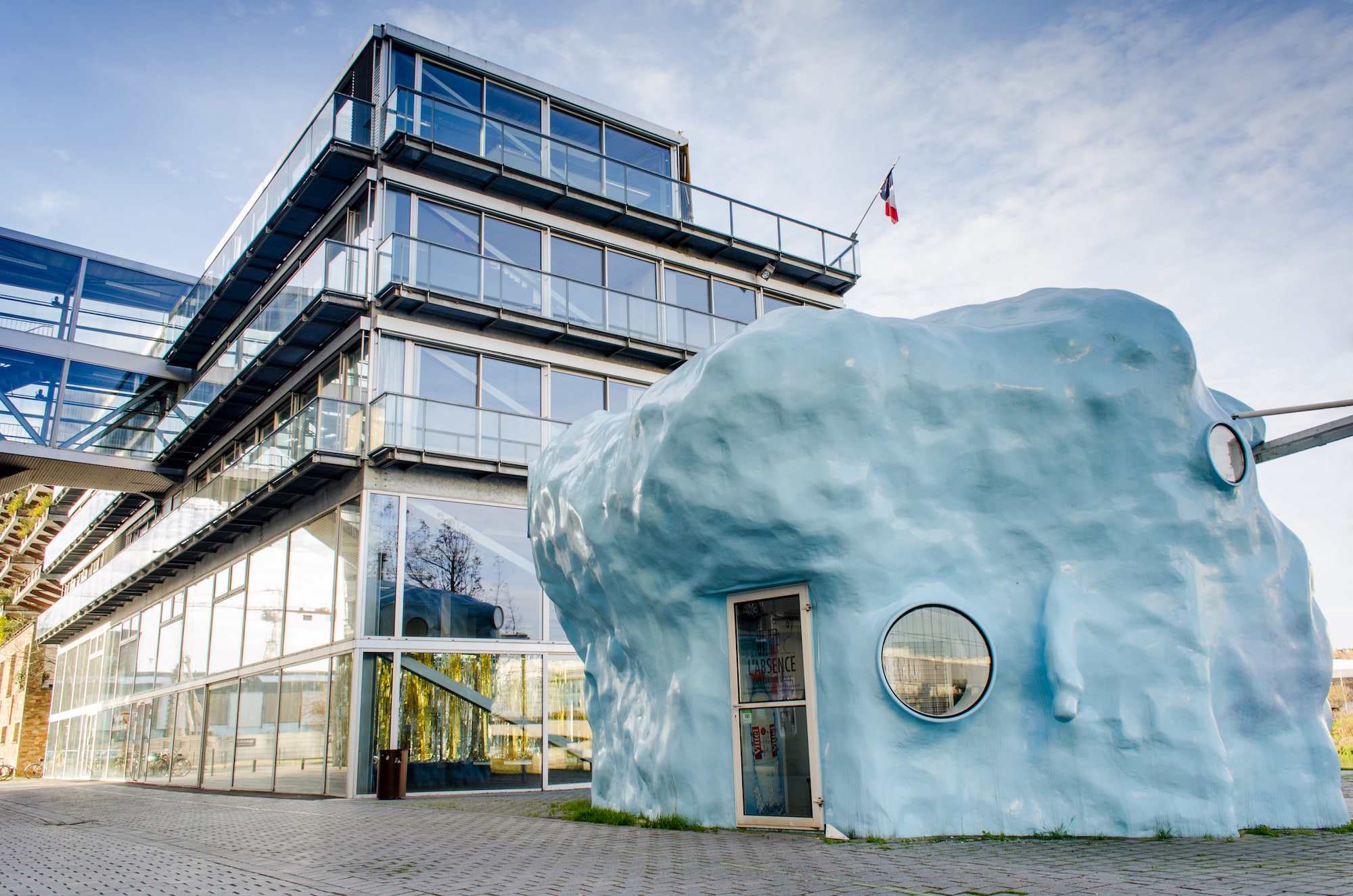 ©
WORK CREATED FOR ESTUAIRE 2009 AS PART OF THE PUBLIC COMMISSION FROM THE MINISTRY OF CULTURE AND COMMUNICATION – DRAC DES PAYS DE LA LOIRE (1% ARTISTIC OF ENSA NANTES).
Access
Parvis de l'ENSA (École Nationale Supérieure d'Architecture) 44200 Nantes
How to get there?
Parking(s) nearby: Parking CHU 1, Parking CHU 2, Parking Gloriette 2, Parking Gloriette 1, Parking Les Machines
Public transport: République, Gaston Veil, Gare de l'Etat
Self-service bicycles: École D'architecture (n°77), Quai Moncousu (n°39), République (n°46), Palais De Justice (n°44), Prairie Au Duc (n°45), Félix Éboué (n°37)
Contact
T. +33 (0)2 55 09 12 79
Website

Opening hours
Monday to Saturday from 12.00 to 22.00
Closed on public holidays and long weekends
Accessibility
Explanatory video in French sign language and French subtitles available online here.
L'œuvre peut être partiellement découverte par le toucher.
Un livret en braille, en gros caractères et en relief rassemble plusieurs dessins d'œuvres dont celui de L'Absence (à emprunter auprès du bureau d'accueil du Voyage à Nantes, face au Château). Un audio-guide est disponible en téléchargement https://www.estuaire.info/fr/audioguides/
Une vidéo de médiation en LSF sous-titrée en français et avec voix off est disponible en ligne