Heritage
Cathedral Saint-Pierre and Saint-Paul
The cathedral and its crypts are inaccessible following the fire of July 2020.
Catholic religious building dating from the 15th century, emblematic of the city of Nantes.
There is a stanza engraved on the back of the doors that tells us of when the first stones were laid in 1434, and with it one of the longest religious constructions in France was underway, building that wouldn't be completed until 1893. Repair and restoration work was first undertaken after the 1972 fire and only finished once the cathedral had been returned to its original splendor. Behind the white-stone (and not in the more usual granite) of a double tower front, the nave rises to a full 37.5m – higher than at Notre-Dame in Paris.
The Tomb of François II and Marguerite de Foix
In the righthand transept lies the masterpiece of the sanctuary, the tomb of François II and Marguerite de Foix, parents of Anne of Brittany.
Ordered by Anne of Brittany This Renaissance masterpiece was made by Michel Colombe in 1507. In 2012, Le Voyage à Nantes set up a light structure to elevate the visitor's gaze and took advantage of 2013 to provide the work with new lighting.
The crypts
The 11th century roman crypt actually hides the real treasure of the cathedral in the shape of a bigger second crypt dating back to the 19th century and today housing a permanent exhibition on the history of the cathedral.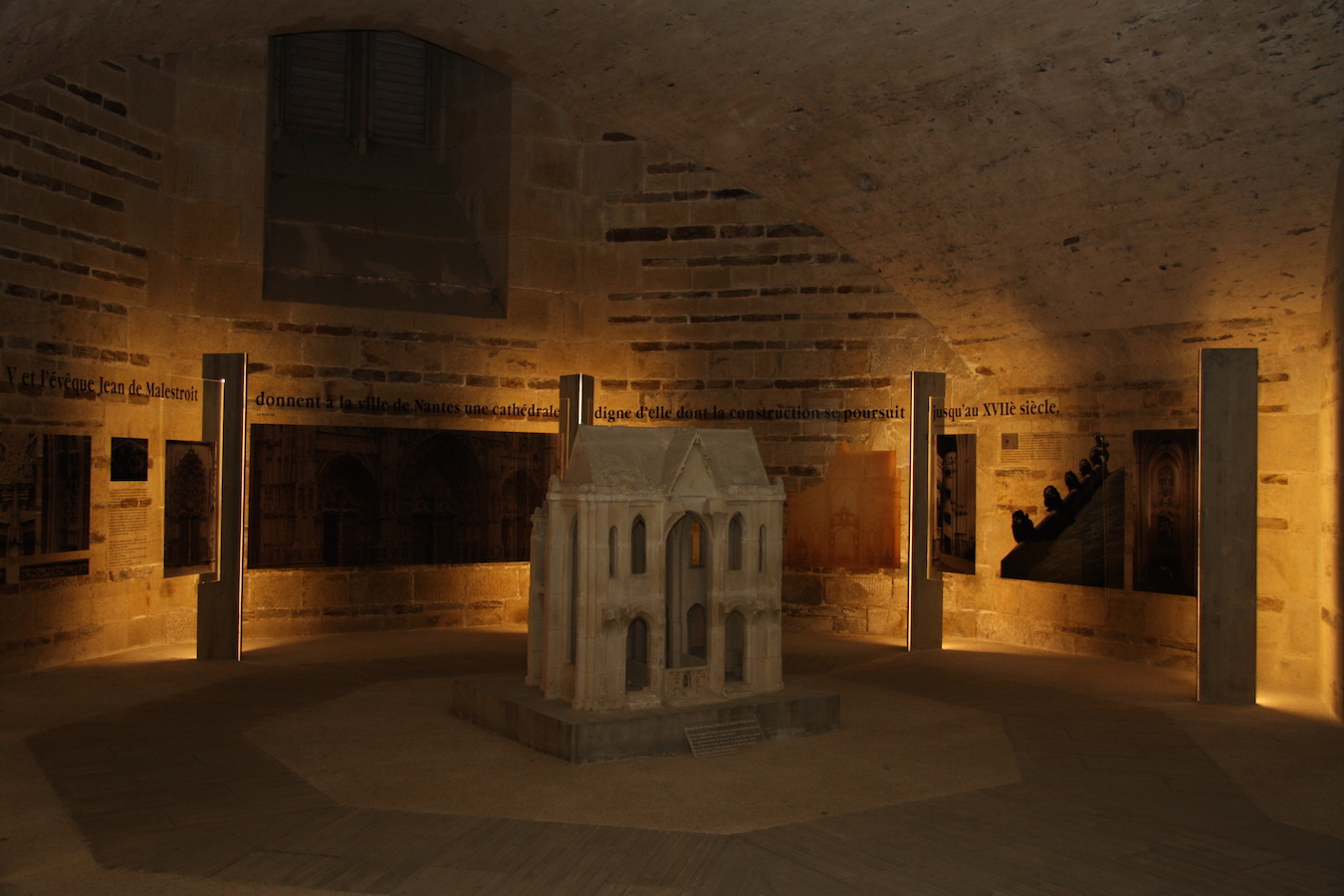 Fire summer 2020
The fire of July 2020 caused a lot of damage, in particular the loss of the great organ, the stalls and the 15th century glass roof, both of which were preserved during the great fire of 1972. The building is temporarily closed until major renovation work can restore its splendour. An exhibition on the forecourt shows the work in progress.
Access
Place Saint-Pierre 44000 Nantes
How to get there?
Parking(s) nearby: Parking Château, Parking Cathédrale, Parking Decré-Bouffay, Parking Gare Château, Parking Baco-LU 1 côté gare
Public transport: Foch-Cathédrale, St-Pierre, Duchesse Anne-Château
Self-service bicycles: Foch (n°32), Verdun (n°48), Strasbourg (n°3), Hôtel De Ville (n°2), Duchesse Anne (n°49), Château (n°50), Moulin (n°4), Préfecture (n°1), Jardin Des Plantes (n°63), Lieu Unique (n°61)
Accessibility
Entrance through the south transept's door (door near the tomb of the Dukes) accessible through a porch near the garden of the Psalette.
View of the recumbents not accessible to wheelchairs and pushchairs.
Crypts not accessible to wheelchair users.
Accompaniment is recommended for people who have difficulty walking.
Difficult path, paved area and uneven ground.