©
ARCHIVE
It's over !
2022 edition
Musée d'Arts de Nantes
Paradigme perpendiculaire
Angela Bulloch
The Musée d'arts has invited this internationally acclaimed artist to design a site-specific installation for the Patio/inner courtyard. Downplaying the monumental nature of the space, Angela Bulloch presents a work that associates sculpture, video, and painting, all under a celestial vault.
Through sculpture, installation, or digital creation, Bulloch draws on the legacy of conceptual art that emerged in the 1960s while taking inspiration from digital technologies and automated systems to create a sensorial work. Visitors are invited to enter into the heart of her dynamic project and enjoy an immersive experience.
For the Musée d'arts, Bulloch continues her Night Sky series – which are composed of constellations of LEDs meant to resemble star-filled skies – which she began in 2007. The exhibition Paradigme perpendiculaire associates a night sky and forest of sculptures with a virtual world through which imaginary characters travel.
The juxtaposition of these two terms invites us to question our long-held beliefs. A "paradigm" refers to a set of facts or knowledge we base ourselves on to try and understand what surrounds us. "Perpendicular" refers to whatever rests on a horizontal axis, like humans standing at a 90° angle to the earth, or sculptures on a floor. For Bulloch, setting those two words next to each other invites us to reflect on the subjective point of view we use to understand the past and present – and from which we project ourselves into the future.
Angela Bulloch's work in Nantes
In the collections of the Art Museum with the work Disco Floor – Bootleg 16 (2002)which can be found in the Chapelle de l'Oratoire.
In situ: Elsewhere in Nantes, the installation The Zebra Crossing, Regulations and General Directions (2009) was created on Île de Nantes (Manny building, Rue La-Noue-Bras-de-Fer) as part of the Nantes < > Saint-Nazaire Estuary trail.
The Zebra Crossing, Regulations and General Directions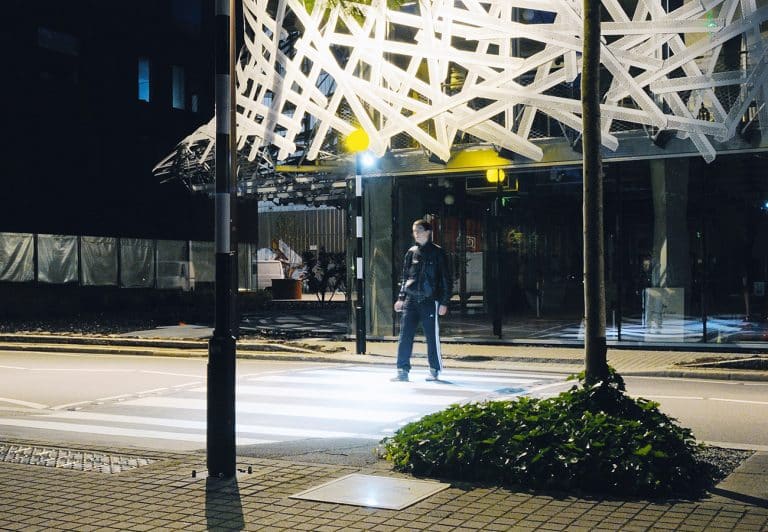 Angela Bulloch was born in 1966 in Canada. She now lives and works in Berlin.