©
ARCHIVE
2022 edition
École Nationale Supérieure d'Architecture
Île de Nantes is a must for any trip to Nantes. Visitors here discover landmark works, like those of Nathalie Talec or Lilian Bourgeat, yet they are often unaware of the artistic and cultural activity that reigns throughout its post-secondary institutions. In 2022, new attractions are popping up all over Île de Nantes, taking visitors off the beaten path to discover the talents abounding on the Campus de l'art (or "Art Campus"). From installations to exhibitions, the students attending these excellent schools shake up the neighborhood and give it a new colour, proving they will design the city of tomorrow.
The artist Guillaumit plays with visual arts and graphic design. Many of his works exist in public spaces, mixing graphic codes and signage. At one bend in the green line, follow the call of his graphic mosaics and discover the inter-school itinerary. If you take a closer look at Guillaumit's work, you will be able to recognize the architectural elements of the buildings he illustrates.
École nationale supérieure d'architecture (ensa) – Nantes Université
Architect duo Lacaton & Vassal won the Grand Prix National de l'Architecture in 2008 and, more recently, the prestigious Pritzker Prize. In 2009, they opened an architecture school focussing on designing large volumes. A monumental ramp runs along the edge of the building and reveals numerous viewpoints, right up to the roof – the highlight of the visit.
Build Think – Workshop Protolab
The studio for the Protolab project questions new practices in architecture, like social and environmental dimensions, resilience… It accompanies students in the actual construction process, with the construction of real-scale prototypes and a strong commitment to working on site. Microarchitectures designed in conjunction with partners involved in social projects are set up for the summer in a scenography that communicates the stages of the project before finally being delivered and set up on each of the sites studied.
The students and their partners :
BSH-Clarpa 56 : Alban Salün, Felix Goya, Damien Joyon, Emma Grolleau, Lila Plet-Rollet, Thomas Fenollosa
SCIC Lieux Communs – Le Solilab : Charlotte Guinet, Ines Lancelin, Clara Van-Schoultz, Berangère Godard, Blanche Meinen, Nathan Rousseau
Villages vacances du Soleil Beg-Meil : Vincent Houée, Valentine Charoux, Alberto Miguel Domingo, Elsa Goujon, Yannick Salle, Eileen Parois Quélennec
L'Autre Cantine : Aashish Shibnauth, Florian Vauthier, Clara Goujon, Adnane Harkati, Nini Adamia, Julia Grudet, Louise Smagghe
The teachers :
Sylvain Gasté, Hélène Guillemot, Wilfrid Lelou, Saweta Clouet
Accessibility

École des beaux-arts Nantes Saint-Nazaire – Nantes Université
The development of the Halles Alstom complex was entrusted to architect Franklin Azzi with the intention of creating pedestrian-only streets and open spaces encouraging encounters between people. The École des beaux-arts de Nantes Saint-Nazaire (i.e., the Fine Arts School) is part of this dynamic, offering a generous public square and other spaces to the public. Fichtre's Table ronde and Askip blend students and impromptu visitors, right outside the school.
Moving, the
hypothesis of a story
Le Déménagement, hypothèse du récit ("Moving, the hypothesis of a story") is a group show examining that moment when one changes habitats – the uprooting that occurs, but also the discovery of new perspectives. Guest artist Olivier Nottellet, invited by Pierre-Yves Arcile, teacher-researcher at the Fine Arts School, has designed a monumental structure for the school's forecourt: an enigmatic cylinder mixing the Open School gallery with student projects related to the theme of displacement. Only visible from the exterior, this work creates a tension between the privacy of moving and public space.
The students :
Eléonore de Bussy, Léa Erlandes, Maria Camila Garzón Z, Léo Moisy, Alice Monneret, Bérénice Nouvel, Eva Pechova, Agathe Perrault, Emma Prevost, Amandine Rousseau
The teachers-artists :
Pierre-Yves Arcile, Olivier Nottellet
Accessibility

©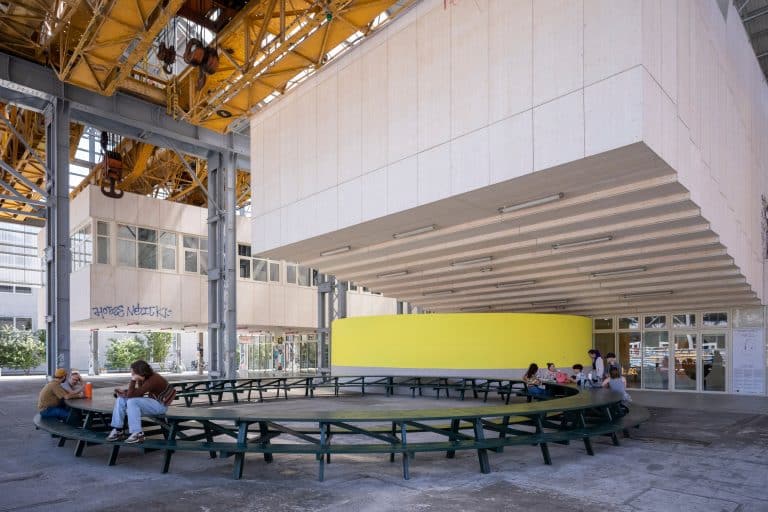 Halles 6 Ouest – Nantes Université
Founded in 2019, the Université de Nantes' Halle 6 Ouest is an interdisciplinary university hub devoted to digital cultures where students, researchers, young professionals and companies come together, linked by the fields of pedagogy, research, and technology. The space hosts laboratories, fablabs and events spaces.
En Découdre
L'œuvre En Découdre is the result of a collective creative process carried out over several of the Université de Nantes' different campuses. It questions the fabric of our relationships following two exhausting years of Covid. After collecting first-hand accounts, writing, group weaving and a performance, the company B R U M E S presents a textile work woven by several people, as well as the collaborative loom where round tables and exchanges took place during their residency. The fabric dreamt up by the artists has been set up in Halle 6 and features the font they designed, which showcases the words of Nantes' students.
The artists making up the B R U M E S company :
Gaby Bazin, Beatrice Bienville, Clémence Chaumont, Louise Hochet, Mathilde Monjanel, Gabrielle Lacoste, Marie Linder, Aude Rabillon, Timothée Raison, Chloé Seillier
Participants Nantes Université : 
the École Nationale Supérieure d'Architecture, the Faculty of Pharmacology, the Faculty of Science and Technique, La Halle 6 Ouest, the École des Beaux-Arts de Nantes-Saint-Nazaire and the Directors of the Culture et des Initiatives department.
With the support of the Direction régionale des affaires culturelles des Pays de la Loire, the CROUS as part of the Contribution de vie étudiante et de campus, and NExT
Accessibility

©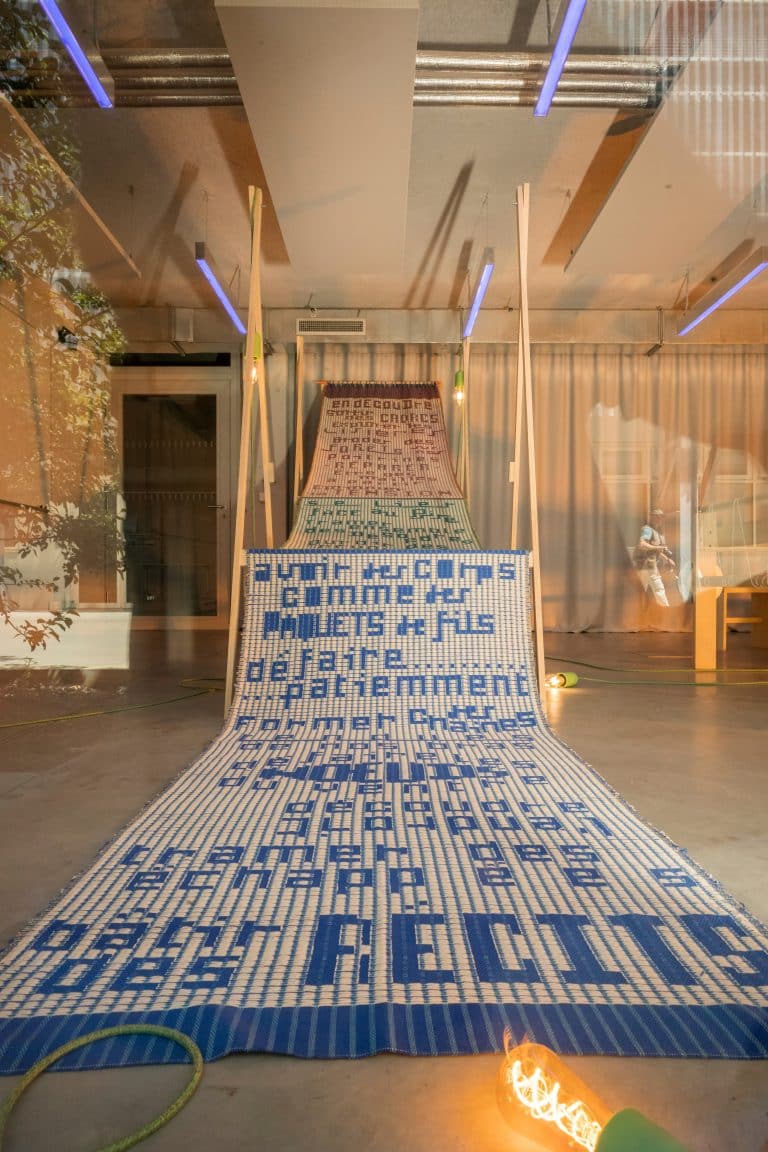 Pôle des Arts Graphiques : lycée de la Joliverie et Grafipolis
The Pôle des Arts Graphiques was the first post-secondary institution to arrive on the campus in 2010, and it presides above a large stone square that plays with the scales of the nearby Zero Newton building and Trempo bunker. It houses two schools: La Joliverie – for the Arts & Design sector – and Grafipolis, which trains apprentices for the graphic industries, as well as paper and cardboard and signage.
The courses aid in the development of the cultural, creative, graphic arts, printing and digital industries. The pedagogy is primarily project-based and focusses on developing partnerships that offer young or mature students knowledge of the working conditions in today's and tomorrow's professional world. This training is enriched by a network of companies formed by both establishments, and student life is filled with myriad internships, work-study programs, tours and conferences. Although visitors cannot see them, large workshop spaces, from drawing to digital printing, or industrial silk-screening, can be found within its walls, revealing the knowledge and savoir-faire of the Pôle's students and apprentices.
The Pôle des Arts Graphiques has worked with Studio Katra and the project is postponed to 2023.
École Supérieure des Métiers Artistiques (ESMA) – CinéCréatis
In the heart of Parc des Chantiers, a creative campus brings together two schools of higher learning: ESMA (École Supérieure des Métiers Artistiques), which trains students in 3D animation and special effects, and CinéCréatis, the film school specializing in cinema and audiovisual professions. Here, short films and animation are produced for the young – and the young at heart.
Open-air cinema
The Cinéma en plein air ("Open Air Cinema") program invites you to take a poetic pause in your tour of Parc des Chantiers. Both original and imaginative, these outdoor screenings are an invitation to one and all to stop and daydream for a few minutes. Using animation or live action techniques, students tell stories revealing their rich and varied artistic world.
The students :
Mélanie Berteraut Platon, Thomas Boileau, Yasmine Bresson, François Briantais, Coline César, Florent Chaput, Adrien Communier, Léo Coulombier, Robin Courtoise, Camille Di Dio, Pierre-André Fontaine, Benjamin François, Justine Goaziou, Pierre Gorichon, Nicolas Grondin, Alan Guimont, Malcolm Hunt, Maxime Le Chapelain, Steven Lecomte, Mathieu Lecroq, Rémy Leroy, Briag Mallat, Louise Massé, Claire Maury, Emilie Milcent, Marianne Moisy, Sophie Payan, Emmanuel Pierrat, Samantha Vié
©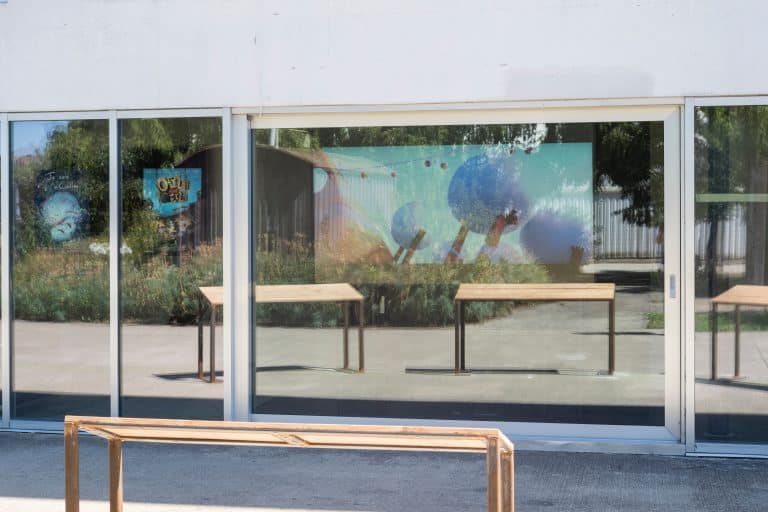 Mediacampus – Audencia SciencesCom
The Mediacampus is dedicated to communication, information and the media, and it brings together the Audencia SciencesCom school of communication, local television station Télénantes, companies, and professional associations (a communications agency, press agency, animation studio, audiovisual production, Press Club, and more). This ecosystem provides conferences, training sessions, and a variety of events throughout the year, as well as spaces for professional content production (TV platform, audio studio, etc.).
An island of talent
The students from Audencia SciencesCom present a project on the identity of the Campus d'Art and inter-school program, revealing a mural that features the work of graduates from the seven partner institutions. With its multi-format editorial content (writings, podcasts, photos, videos…), this work – which has been compiled into a web documentary – allows us to discover the histories of past students, representing the unique DNA of each institution, its diversity, and its creative dimension. These portraits are visible at the entrance of the Mediacampus, but also from the signs posted at each project within the inter-school program.
The students and their partners :
Paloma Benabes, Océane Bilba, Amaury Bodet, Héloïse Bondy, Lisa Bonin, Ilona Bourdonnay, Alice Caraes, Eloïse Chesneau, Hermance Cleron, Clémence Cousseau, Claire David, Octave Debart-Johner, Lola Decosse, Claire Desrues, Alix Durand-Surcouf, Randa El Fekih, Clément Escape, David Fouchard, Clémence Gardic, Alice Garel, Alan Garnier, Enora Giraudeau, Laure Godin, Chloé Grangiens, Louise Guichet, Gaëlle Herbreteau, Eloïse Jaouen, Romane Le Goff, Rachel Leblois, Albane Mantrand, Nicolas Menoret, Mathieu Moreau, Marion Morice, Téva Morice, André Junior Moussavou, Julie Muller, Denzel Mure, Ayana Ngoundo Mbappé, Loane Novou, François Pasquier, Margot Pelote, Jules Ropars, Alice Ruel, Tara Tanguy, Rose Toizat, Mathilde Tricault, Léonie Wersand
The participants :
Estelle Prusker, Vincent Gerles, Denis Vannier
Accessibility

Discover the portraits of former students of the schools of the course:
Read more
©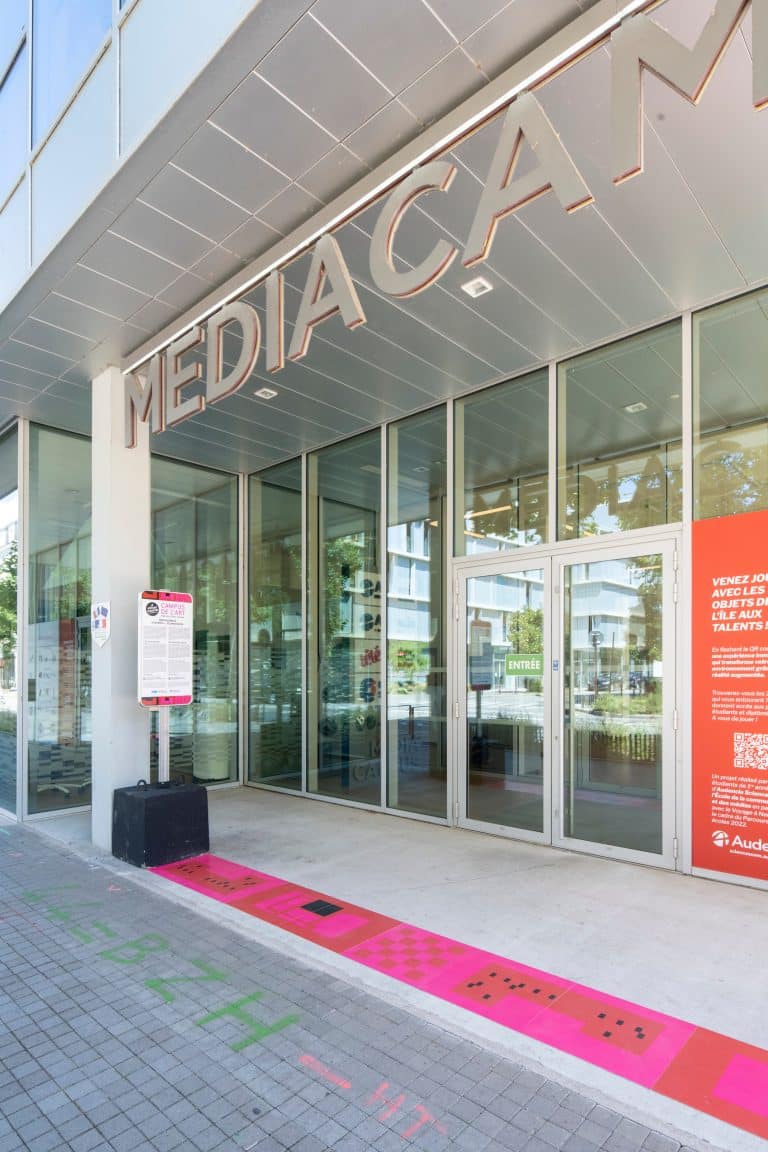 École de design Nantes-Atlantique
Podcast : À l'écoute des chantiers
À l'écoute des chantiers ("Listening to the Shipyards") is an immersive sound and visual walking tour exploring the industrial heritage of Parc des Chantiers, with stories told by former shipyard workers and augmented reality projections. Designed by the students of the Digital Lab and Care Design Lab , thanks to the support of the Maison des Hommes et des Techniques (MHT) in response to a commission by the Direction du Patrimoine et de l'Archéologie (DPARC), the tour offers a dozen points of interest located between Pont Anne-de-Bretagne bridge and the grey Titan crane.
The tour is available on the Nantes Patrimonia website and can be downloaded as a smartphone app and/or activated via QR codes present throughout Parc des Chantiers, and will ultimately lead you to the Maison des Hommes et des Techniques, where you can further enhance your knowledge of Nantes' historical shipyards.
Listen to the podcast
©