©
2022 edition, Permanent art work
Rue Bias
Extensions. Rue Bias, Nantes. 2022
Krijn de Koning
Combining sculpture, painting, and architecture, Dutch artist Krijn de Koning's in situ work is composed of large geometric volumes covered in flat tints, borrowing their form from architecture's elementary vocabulary – floors, walls, ceilings, and openings – in order to surprise viewers with new perspectives on a given site.
Next to Île Feydeau, to the Loire, and to the university hospital, a new campus has been built in the heart of town, welcoming hundreds of researchers, students and hospital staff. The notion of passage is fundamental for de Koning, and he has designed a work for Rue Bias – a street that cuts through this heterogeneous neighbourhood – by basing it on two existing architectural curiosities: the 1930s-era ochre portico of Nantes Université's administrative building, and the hospital parking lot, a former Peugeot garage from the early 1950s which, with its concrete structure, imposes its massive circular form.
Krijn de Koning draws inspiration from the surrounding shapes and colours in order to create new visual landmarks. The parking lot's rings are painted green and blue, while its flat façade is painted in the same reddish-ochre of the presidency portico. Now visually linked, these two buildings become fragments of a sculpture built on a neighbourhood-scale, connected via four circular sculptures that create a rhythm on Rue Bias, whose colour palette mirrors them. Alternating as columns, street furniture, totem poles and focal points, laying at the intersection of adjacent side streets, they create a rhythm within the space that also reveals it.
Krijn de Koning was born in 1963 in Amsterdam, where he lives and works.
©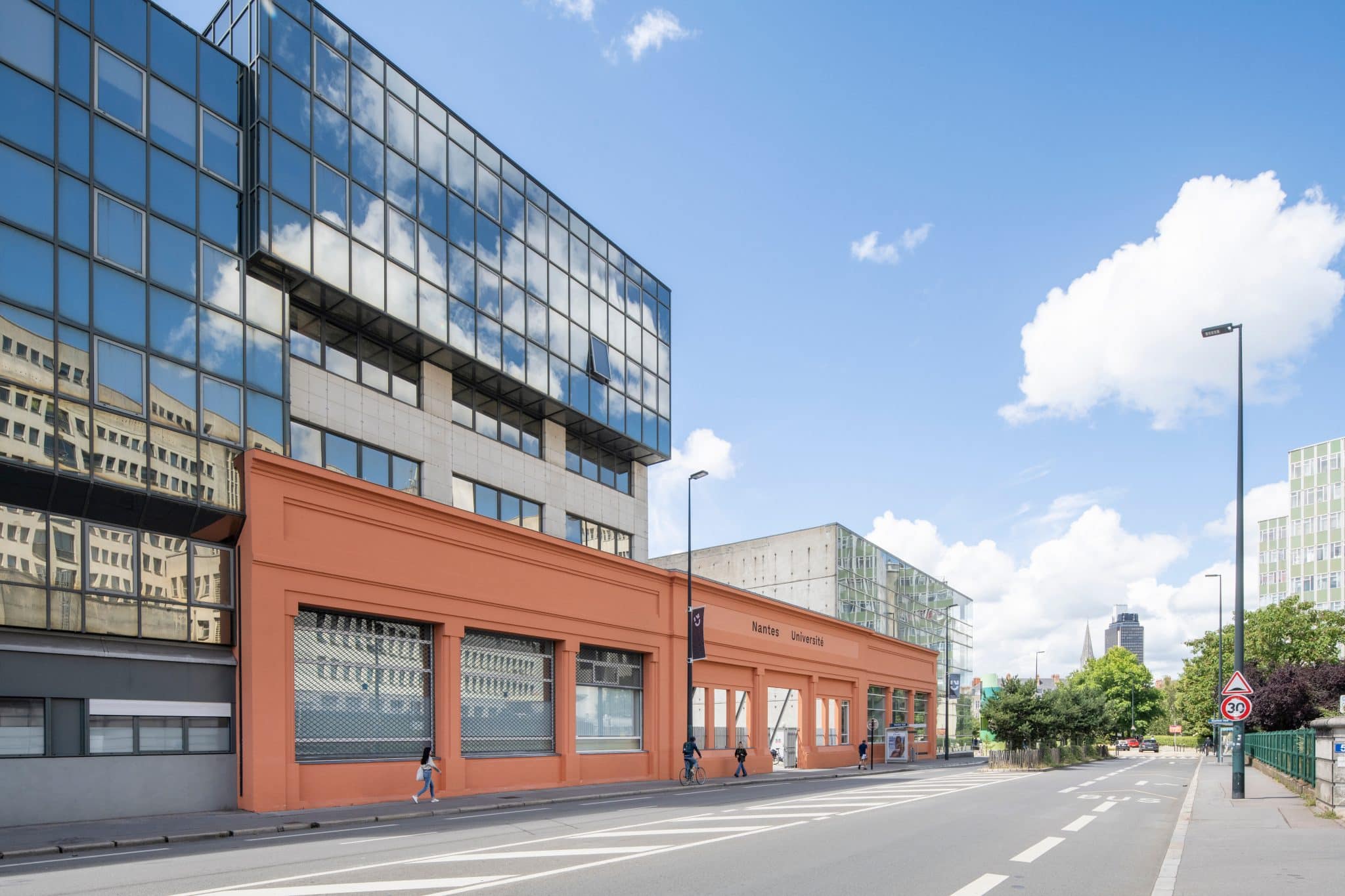 Access
Rue Bias 44000 Nantes
How to get there?
Parking(s) nearby: Parking CHU 1, Parking Gloriette 1, Parking Gloriette 2, Parking CHU 2, Parking Commerce, Parking Médiathèque, Parking Hôtel Dieu
Public transport: Gaston Veil, Square Daviais, Square Davais, Médiathèque, Commerce
Self-service bicycles: Quai Moncousu (n°39), Félix Éboué (n°37), École D'architecture (n°77), Bourse (n°31), Duguay Trouin (n°29), Palais De Justice (n°44), Médiathèque (n°34), Ricordeau (n°38), Commerce (n°30)
Accessibility