©
Elegant hotel combining Scandinavian and contemporary styles. The design rooms promise comfort and quiet. We will gladly linger in the hotel lounge or around the large guest table for a break around a snack available.
OKKO Hotel Nantes Château is ideally located in the centre of Nantes, this 4-star hotel offers 80 rooms. A stone's throw from the Château des Ducs de Bretagne castle and at the heart of the Bouffay district, our hotel is also only a 10-minute walk from the city's train station (Gare Nord city centre exit) and offers immediate access to public transport services (tram, bus) and the "La Cité" events centre.
OKKO HOTELS has somewhat upset the codes of the traditional hotel industry. No reception desk, breakfast room, lobby, meeting room, lounge but a single living space : the Club. A place combining design and friendliness where you will find the following services and facilities:
A kitchen where you will find something to nibble and refresh you throughout the day.
A business corner with two computers and a printer. Our hoteliers are also at your disposal to carry out fax and photocopy.
A fitness area equipped with cardio-training machines and body-building as well as a sauna, to keep fit even when traveling.
A shop offering local products and design accessories carefully chosen by our teams, always useful if you have promised a gift to someone who is dear to you.
A selection of newspapers, magazines and fine books to consult on site, well installed in one of the design armchairs designed by Patrick Norguet.
A high performance wifi that allows you to connect up to 4 devices. And if you encounter any problem, a hotline is set up to help you.
A team of hoteliers is present 24 hours a day to answer your needs: to order a taxi, to book a restaurant, to advise a tourist place, a shop. They are there for that and that's why they chose this job.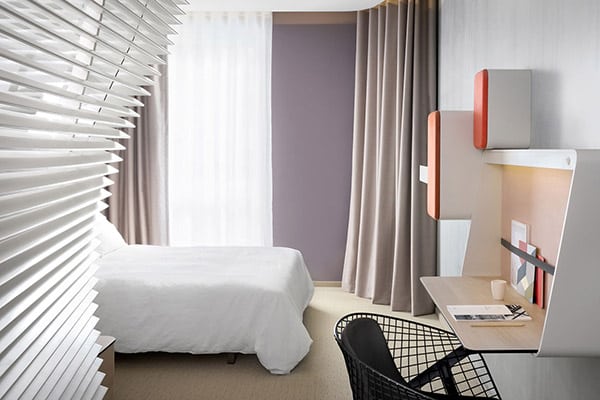 Access
15 Rue de Strasbourg 44000 Nantes
How to get there?
Parking(s) nearby: Parking Decré-Bouffay, Parking Feydeau, Parking Château, Parking Baco-LU 1 côté gare, Parking Baco-LU 2 côté CHU, Parking Cathédrale
Public transport: St-Pierre, Hôtel de Ville, Bouffay, Foch-Cathédrale
Self-service bicycles: Strasbourg (n°3), Verdun (n°48), Moulin (n°4), Château (n°50), Hôtel De Ville (n°2), Bouffay (n°20), Foch (n°32), Duchesse Anne (n°49), Baco (n°52), Barillerie (n°7)
Accessibility
3 rooms for people with reduced mobility