©
Estuaire itinerary, Permanent art work
Nantes
Ange Leccia
Nymphéa is a video projected onto the surface of the canal. A woman calmly floats about in her aquatic environment.
Although the Loire River and its tributaries run through Nantes, the 20th century saw a series of public works projects that filled in many of its waterways — for instance, the Erdre River used to flow where the long Cours des 50-Otages road now runs. This river was rerouted into the long Saint-Félix tunnel and now empties out into the Loire, just a few metres from the LU tower.
This double presence of water in the image (and as a medium for the image) creates a blurring effect that is deeply disturbing: the creature appears to be the tunnel's prisoner and her body stretches inside its inhospitable entrails. The light from the projection plays on the moving surface of the water — a tangible homage to Claude Monet. This sprite is embodied by Laetitia Casta, an icon of our society who becomes a contemporary mythical nymph in this work.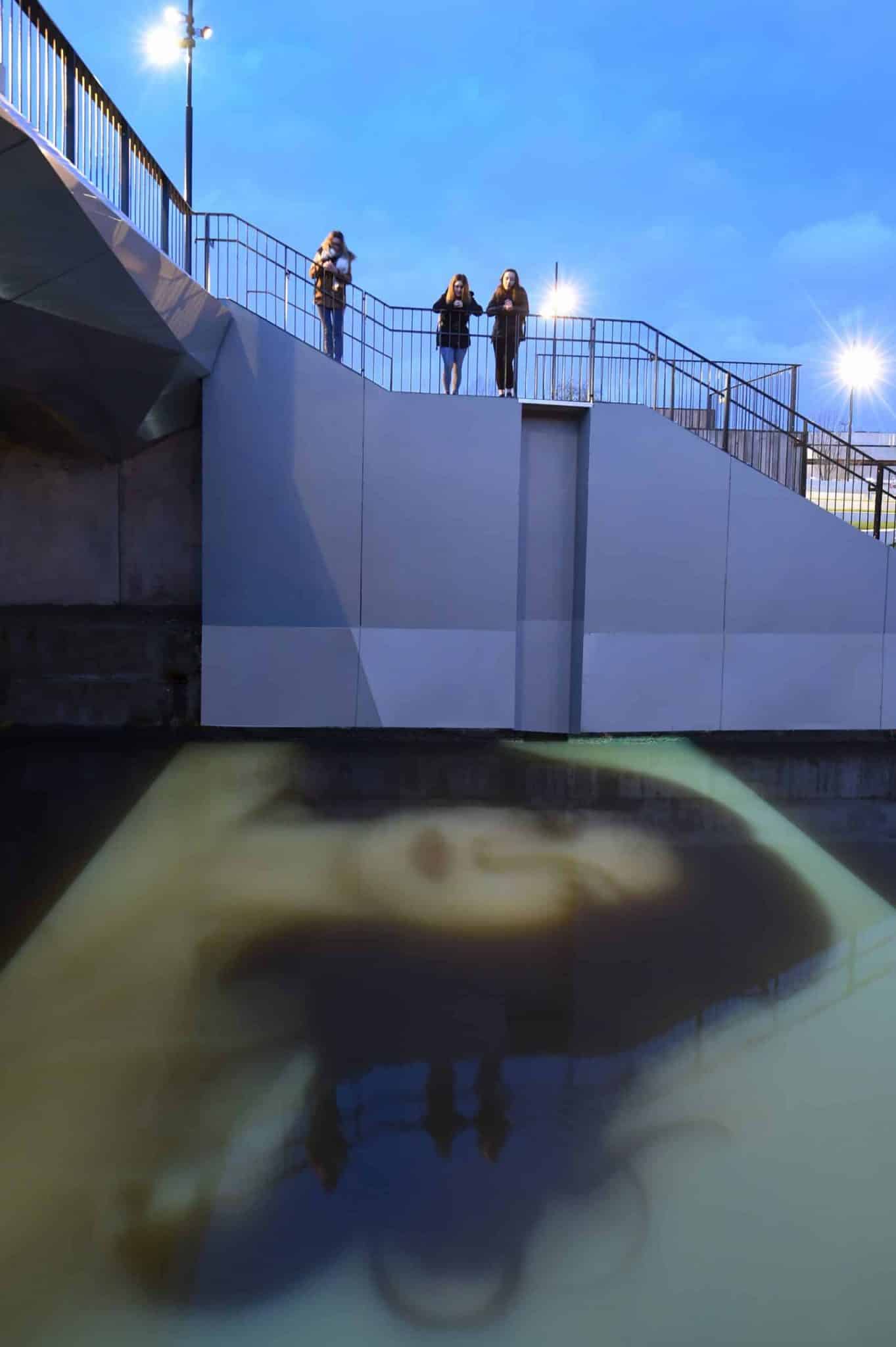 A WORK OF ART CREATED FOR ESTUAIRE 2007. REPRESENTATION OF LAETITIA CASTA'S IMAGE UNDER LICENSE FROM ALLAROSA PRODUCTIONS.
Access
Tunnel Saint-Félix. 44000 Nantes
How to get there?
Parking(s) nearby: Parking Gare Château, Parking Château, Parking Baco-LU 1 côté gare, Parking Cité des Congrès
Public transport: Duchesse Anne-Chateau, Lieu Unique, Duchesse Anne-Château, Cité des Congrès, Monteil
Self-service bicycles: Lieu Unique (n°61), Duchesse Anne (n°49), Gare De Nantes Nord (n°60), Baco (n°52), Gare De Nantes Sud (n°70), Château (n°50), Cité Internationale Des Congrès (n°54), Strasbourg (n°3), Gare De Nantes Nord 2 (n°62), Jardin Des Plantes (n°63)
Opening hours
Artwork visible at nightfall.
Accessibility
Artwork visible by looking above a guard rail.
Explanatory video in French sign language and French subtitles available online here.
Must look over guardrail to see work.