©
2019 edition, Estuaire itinerary, Permanent art work
Nantes
Tadashi Kawamata
Through his artworks, Tadashi Kawamata tries to create or recreate the link between humans and places. His works are almost always ephemeral and made of wood, leeching off of already existing architecture in its tiniest interstices, invading landscapes to better reveal them. Through the very simplicity of his fetish material and its infinite building potential, he shines a light on the identity of these places, as well as the fragility of precariousness of the human world.
For Nantes, Tadashi Kawamata designed the Belvédère de l'Hermitage. This work is made entirely of wood, and opens onto a long, narrow footbridge that is slightly sloped and surrounded by high fences. In doing so, it offers a framed perspective of the sky and river. This rectilinear and stable path continues to extend without the fences, then hangs, cantilevered above the cliff. From this dizzying height, visitors step towards the void and discover the unobstructed view of the city and river.
Literally inside the landscape, they see a chaotic mess of beams underneath the planking that clings to the side of the cliff and is reminiscent of the round, delicate shape of a swallow's nest.
In order to blend in with the landscape, Kawamata has chosen two types of wood: Bilinga, an exotic wood for the supporting structure, and pressure-treated grey larch for the deck, fencing and meshing. The footbridge is 2.8 metres wide and 36 metres long, 10 metres of which hang over the cliff almost 20 metres off the ground.
Tadashi Kawamata was born in 1953 in Hokkaido, Japan. He lives and works in Tokyo and Paris. He is represented by Galerie Kamel Mennour (Paris). Tadashi Kawamata has created in situ works worldwide, one of which is L'Observatoire in Lavau-sur-Loire, a permanent work and part of the Estuaire Nantes < > Saint-Nazaire collection.
©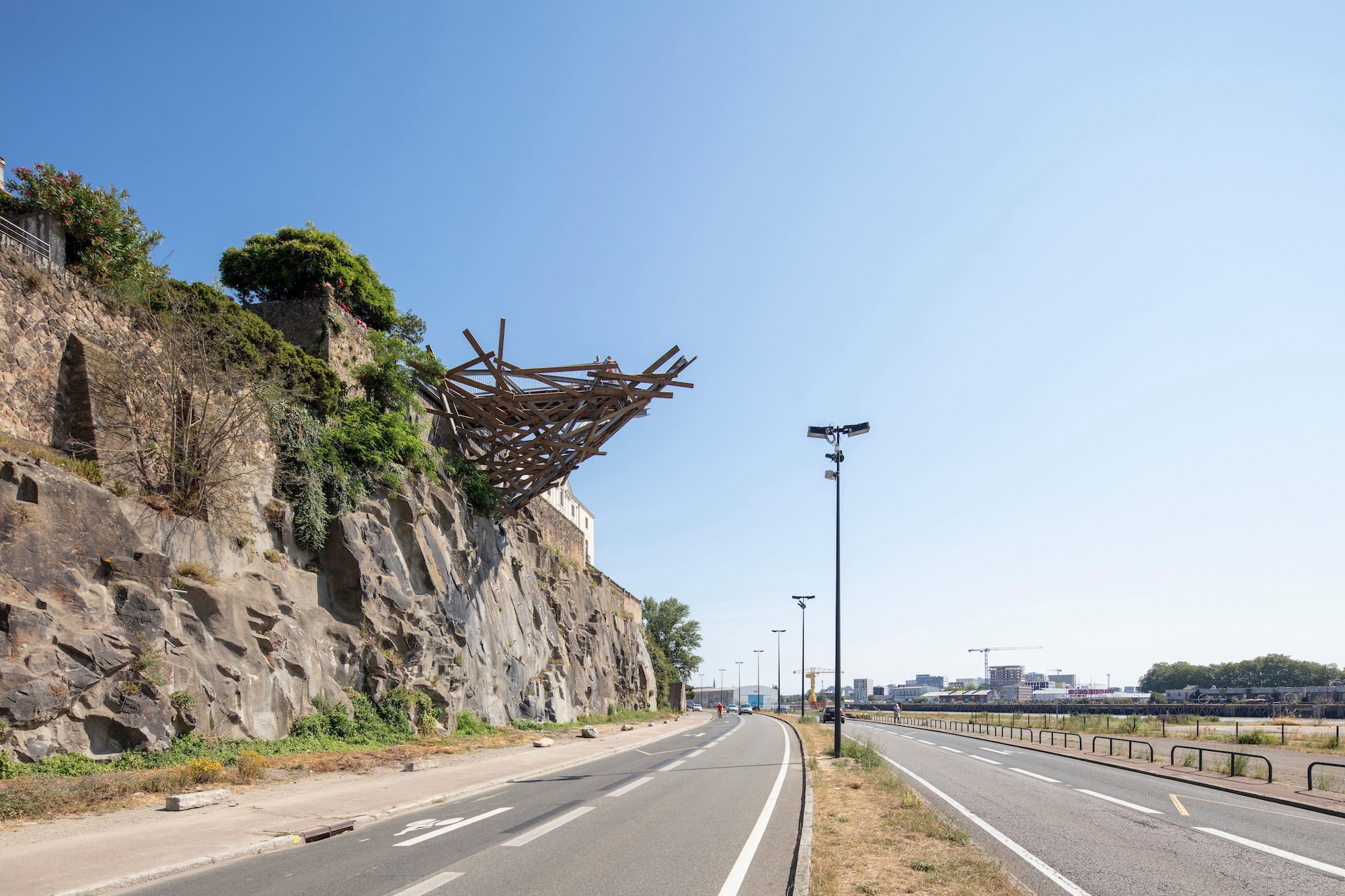 ©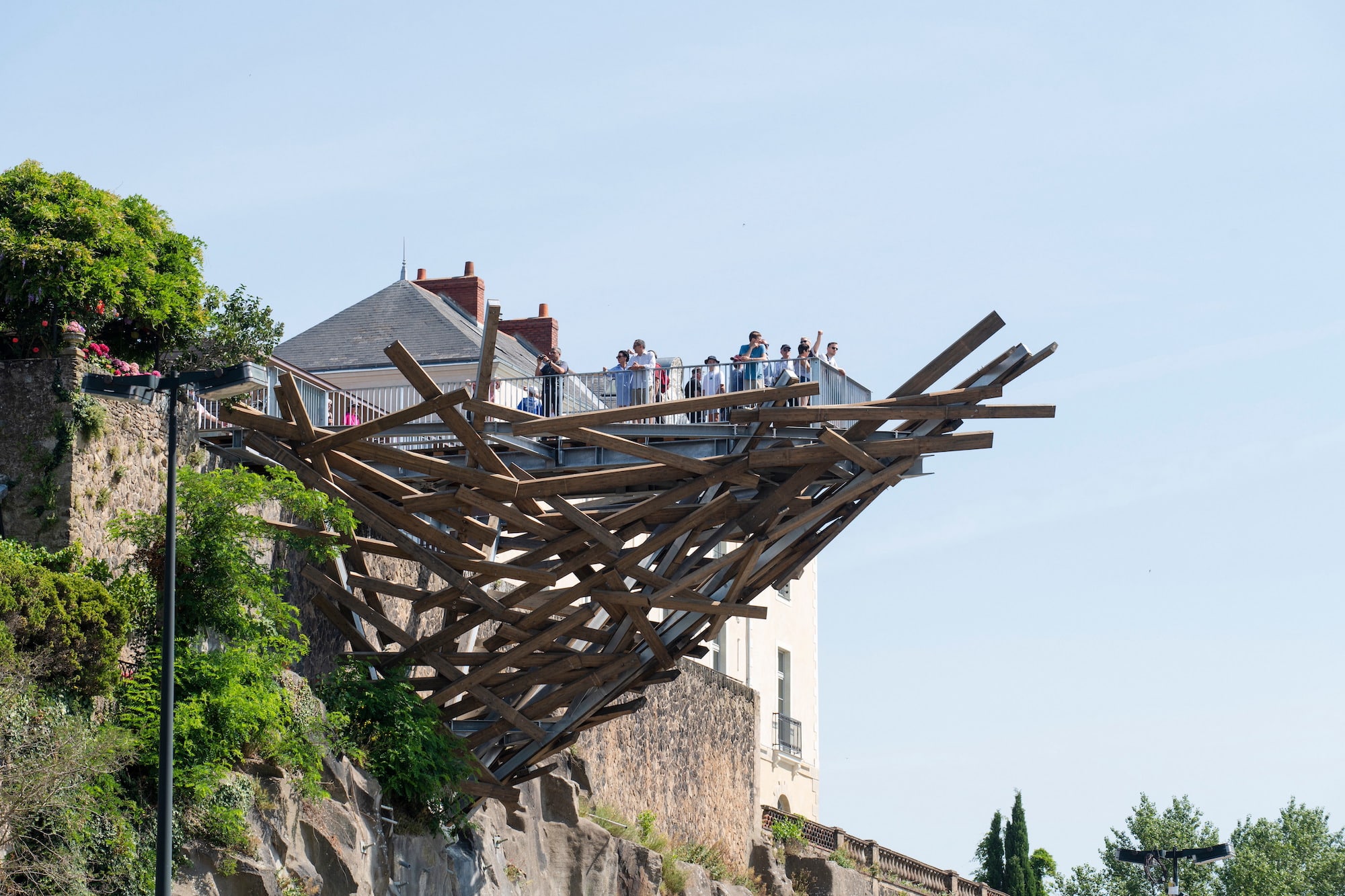 ©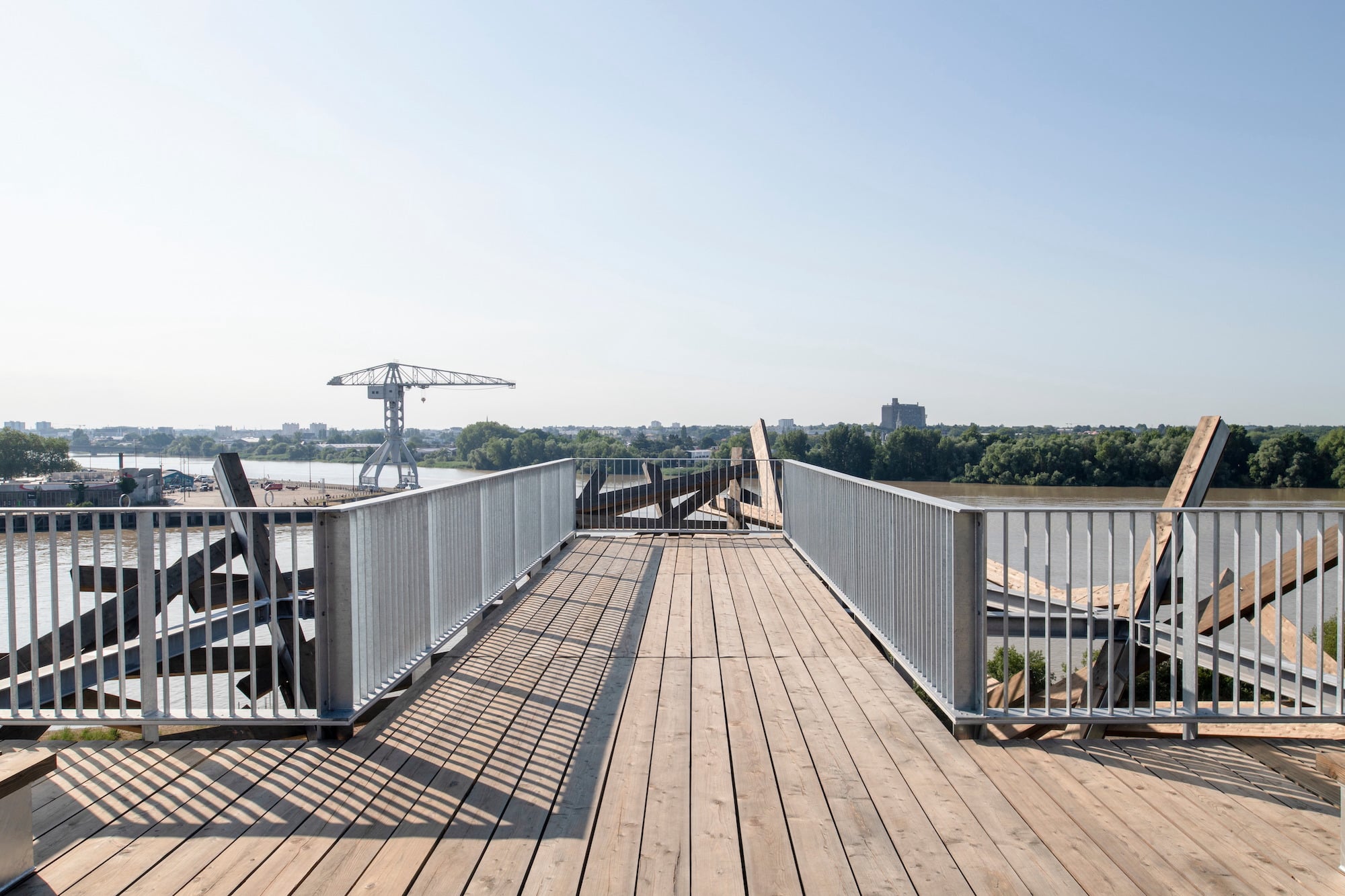 WORK CARRIED OUT THANKS TO THE SUPPORT OF GALEO, PROJECT PARTNER AND THE KARMA ENDOWMENT FUND.
PROJECT MANAGEMENT: NANTES METROPOLE.
Opening hours
Open every day from 9.30am to 7pm.
From 15 May to 3 September: from 9.30 am to 10 pm.
Accessibility
Explanatory video in French sign language and French subtitles available online here.