Housed in the former LU biscuit factory since the 1st January 2000, the 'Lieu Unique' is a friendly, cultural melting pot, ripe for artistic exploration. Renovated by the architect Patrick Bouchain, LU is a place of coming together. In addition to its own dedicated creative spaces it is also home to a number of retail activities including: a bar, a restaurant, a Turkish bath, a nursery.… and the LU Tower which offers breathtaking views of the city and the rooftops of the Lieu Unique.
Built in 1909, the LU Tower was an advertising totem erected to the glory of the LU biscuit brand. The celebrated biscuit box is 38 metres high and sits above an allegorical sculpture of Pheme and six signs of the Zodiac. Orphan to her twin tower, lost in 1974, the LU tower was restored to its exact original when the factory was reconverted into a national arts venue.
The tour offers an ascent through the building – from the ground floor to the dome – to discover the major parts of the history of the venue: from its creation in the 19th century to the present-day Lieu Unique as we know it. It combines archive images, posters, photos of shows, video interviews, and a dizzying retrospective of over 20 years of programming at Le Lieu Unique.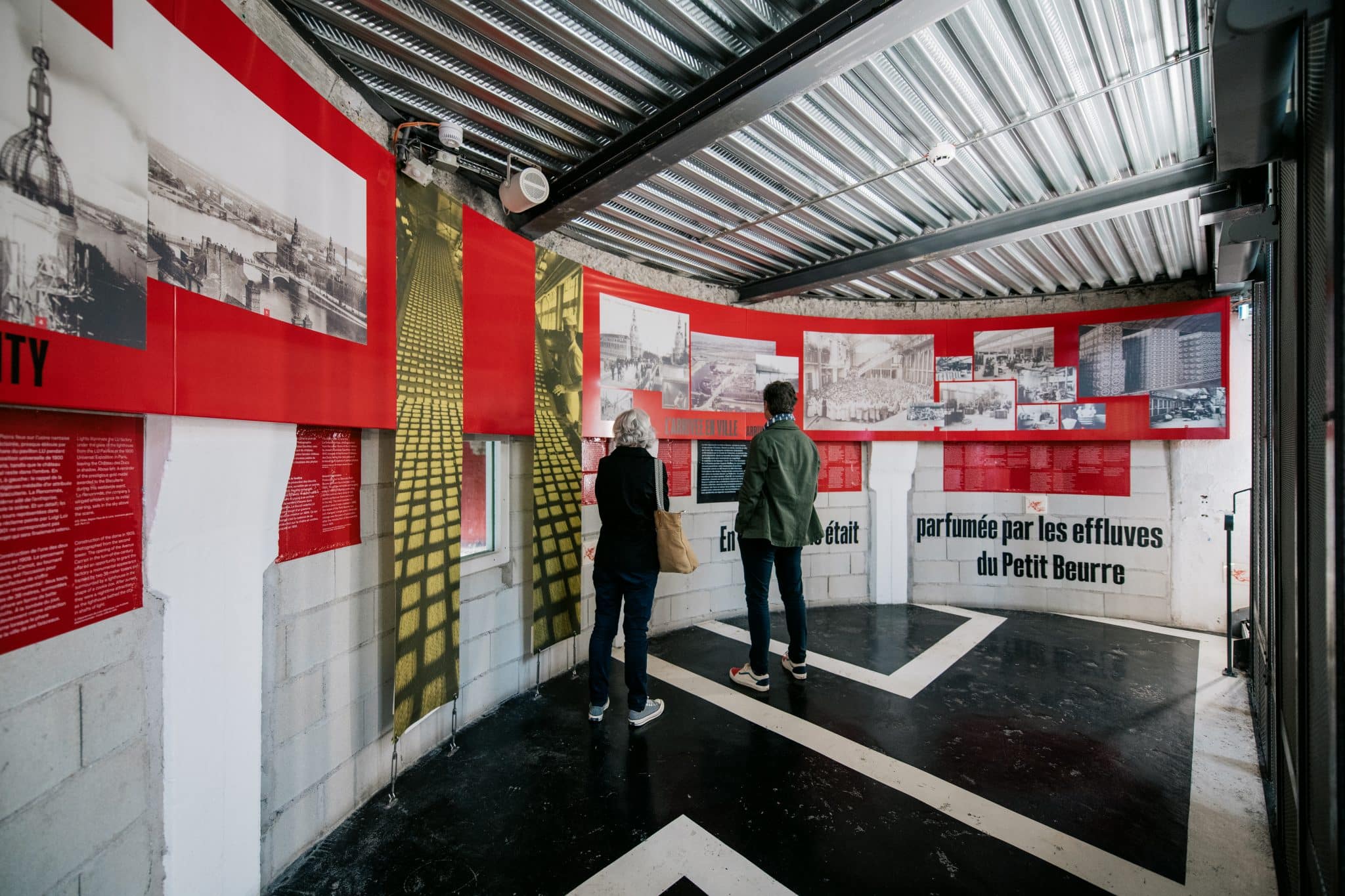 Le Lieu Unique
All year long, the Lieu Unique offers up an international programme that brings performing arts, music, and contemporary art to the public, while also hosting a variety of different festivals. On the weekend, the bar also becomes a venue for DJs and concerts.
More information
Access
2 Quai Ferdinand Favre, 44000 Nantes
How to get there?
Parking(s) nearby: Parking Gare Château, Parking Château, Parking Baco-LU 1 côté gare, Parking Cité des Congrès, Parking Gare limité 1h, Parking Gare Sud 3
Public transport: Lieu Unique, Duchesse Anne-Chateau, Duchesse Anne-Château, Cité des Congrès
Self-service bicycles: Lieu Unique (n°61), Gare De Nantes Sud (n°70), Duchesse Anne (n°49), Gare De Nantes Nord (n°60), Cité Internationale Des Congrès (n°54), Baco (n°52), Château (n°50), Gare De Nantes Nord 2 (n°62), Stade Saupin (n°59), Strasbourg (n°3)
Opening hours
All year long : Saturday : 14.00 -19.00, Sunday : 15.00-19.00.
During French school holidays (zone B), Wednesday to Saturday : 14.00-19.00, Sunday : 15.00-19.00. Closed on 1 January, 1 May, 25 December.
Prices
Free for PASS Nantes holders
Book PASS Nantes
Full price 3€
Reduced price * 2€
Free for children under 13
Free access every first Sunday on the Month (except in July and August)
* students under 30, children under 18, jobseekers, Cart's holders, entertainment intermittents, visual artists registered with URSSAF artists/authors, RSA beneficiaries, people receiving the minimum old age pension or AAH allowance
Accessibility
The 0 bis floor and the dome are only accessible by stairs. Not accessible with a pushchair.