With its history and magnificent location, this former courthouse is renowned for its charm, elegance and luxury.
Its large hall hosts exhibitions and concerts and its restaurant "A Partager", located in the former courtroom, is a popular place for its refined dishes to share.
Revisited by the elegant signature of Jean-Philippe Nuel: the 142 rooms are prestigious and offer contrasts of colors of extreme intensity including iconographies of decorative art with furniture exclusively tailor-made for the establishment.
The hotel offers Standard Room, Standard Superior, Business Class Room, Junior Suite & Suite. Each room is equipped with a TV, a minibar, free internet access, a safe …. All bathrooms have natural light.
©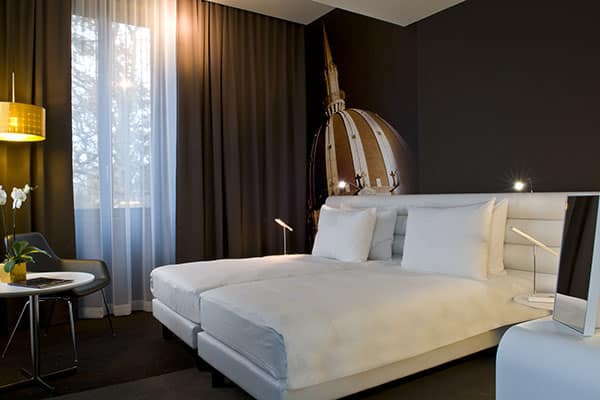 ©
Access
6 Place Aristide Briand 44000 Nantes
How to get there?
Parking(s) nearby: Parking Descartes, Parking Aristide Briand, Parking Graslin, Parking Tour Bretagne
Public transport: Delorme, Jean Jaurès, Harouys
Self-service bicycles: Aristide Briand (n°15), Édouard Normand (n°16), Sainte Élisabeth (n°17), Guist'hau Sud (n°26), Delorme (n°12), Calvaire (n°11), Bretagne Sud (n°13), Guist'hau Nord (n°27), Viarme (n°18), Guépin (n°9)
Accessibility
Entrance: Access with a ramp. Hotel equipped with an automatic door.
Reception hall: single storey.
Breakfast room: accessible to people with reduced mobility.
Hotel equipped with an elevator.
(declarative)